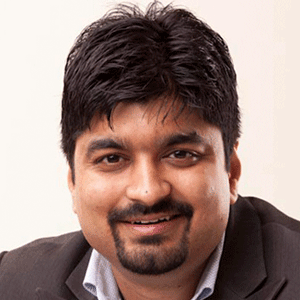 Shashank Dixit
Till a few years back, the ecosystem of enterprise management software largely served multi-national corporations and there by left behind the small-and-medium sized enterprises(SMEs) to fend for them selves. Then came in Deskera that filled the void.
"The SME sector in Asia has traditionally shied from adopting new technologies for the lack of cash or the lack of knowledge of technology. We at Deskera took the onus upon us to educate the SME sector with one-on-one meetings and B2B events. We have also been the game changer by bringing down the prices and making technology affordable," says Shashank Dixit, CEO of Deskera Holdings Ltd.
Dixit is a tech enthusiast and an alumnus of IIT (Kanpur) and the brain behind Deskera.
Founded in 2005, in India, and later headquartered in Singapore, and registered as a private limited company by shares under the Companies Act, Deskera was converted into a public firm and renamed as Deskera Holding Ltd in 2015. Today, it has offices across nine major cities in India including Mumbai, Delhi, Bangalore, Ahmedabad and Pune; and across Southeast Asia in Singapore, Jakarta and Kuala Lumpur.
Comprehensive solutions
The organization provides a comprehensive suite of enterprise software that can be classified under five categories including CRM Cloud, PM Cloud, HRMS Cloud, ERP Cloud and Education Cloud.
According to Dixit, Deskera is the leading provider of cloud-based integrated business management software products in Asia, that enables organisations to manage their businesses efficiently. The Deskera suite of cloud-based enterprise applications enables organisations to manage tax filings, payroll and statutory contributions, project management, sales and purchase, customer relationship management and other statutory requirements. The functionalities also include managing sales and purchase, fixed assets, leases, contracts and inventory; running payroll and generating statutory reports.
It also handles the performance appraisals with expertise along with carrying out recruitment processes efficiently. Companies can also plan and execute projects with milestone billing, efficient resource management and cost/budget fore casting as well. The software also engages customers via email campaigns, track customer concerns and enable sales to deliver results by focusing on their core competencies.
The organization provides cost effective services which are complimented by customisations and hardware infrastructure making it the company of choice for businesses across APAC. Additionally, Deskera's financial systems are also highly localized, supporting local languages.
Deskera helps organisations in managing sales and purchase, fixed assets, leases,contracts and inventory; running payroll and generating statutory reports
"Deskera's competitive strength lies in its low cost of ownership and in turn encouraging the increment in the number of end users without inviting additional costs," says Dixit.
More investments
Deskera has ambitious plans to expand its sales intitaitives and increase its offerings. Immediately on the radar is a cloud data centre in Singapore in which the company is investing US$37 million over the next three years. "We intend to invest in hardware and hosting resources to support customer growth and accelerate operating profit margins," says Dixit. "By bringing the hosting of customer services onto group-owned data centres, we will be able to dramatically lower its cost to serve commitments and deliver an improved margin on new customer growth."
Following this notion and to flourish in near future Deskera is all set to bring outstanding solutions through its benchmark software.